Monumental Earnings This Week.... How Will We Roll?
We called TSLA a short last week and it dropped 11% (not a very safe bet trading against the cult, but a win is a win. Of course the dumb money is buying the dip). Lots more tech this week. FFIV was a short and a win. AMD is going to be an interesting trade with INTC dropping 18% and of course the big FANG guys are later this week. We will trade Spotify and others as well. Check the calendar above, and get in on the action. Stockjumpers performance is on fire.
UPDATE: WE SLAUGHTERED NETFLIX
Big miss on earnings, while all the analysts were long, we were short. Here is our Jump Report.  Here is NFLX  current chart.  We pocketed 15% in 5 minutes. Nice trade StockJumpers members.  Trading these events is much easier when you know the direction its going.
Drum roll please...Q2 earnings season begins. Millions will be made off this new volatility...
It begins. The line-up of thousands of companies reporting earnings during the pandemic period. This is where the rubber hits the road and we shall see the winners and losers and grab the cream off the top. 
Netflix is expected to pop, on amazing numbers… but will they?
Snap is up 70% but will it continue or will gravity pull it down… ?
Facebook reports on the 22nd as well as Tesla… we will provide the data so you can profit from it..
And so on…. hundreds and hundreds of profit making opportunities. The key to winning is knowing in advance the direction of the move.
85% WIN RATIO IN JUNE... SUMMER IS SIZZLING HOT FOR TRADING 'JUMPERS'
Jump trades are doing well. Very well. The month of June had a 85% win ratio with 201% "jump zone" profits. How do we do it? Its all about getting the direction right. We focus on catalyst events (earnings reporters) and run our models the day of the event, and then publish a "jump report" (see example). With Q3 just beginning and earnings season back in full swing in a week… there will be hundreds of plays to work our magic on… here is our complete performance spreadsheet for the last few months.. See our daily Jump Reports page and calendar for upcoming trades. Lots of profit will be made in the next few weeks as earnings season kicks off.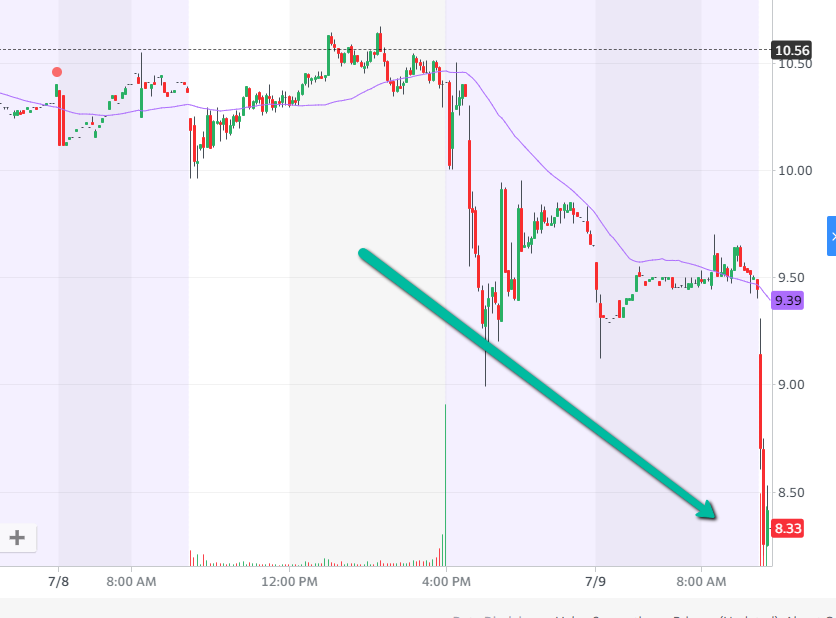 Check out an example of our BBBY trade this week. Here is the BED BATH & BEYOND (BBBY) Jump Report which got traded on the 8th. Look on the Trade Plan tab where we call the direction and how we are trading it. We trade BBBY every quarter and our win ratio is 100%. We shorted Tuesday based on our data-set, and pocketed a quick 20%. Easy money? No, it takes work and knowledge - but this is what we do - day in and day out. StockJumpers excel's - reporting on and trading "Jumpers"..
 At StockJumpers we trade catalyst events with our amazing prediction technology that uses A.I.3 models to determine the most probable direction of a stock jump. It's accuracy is about 80%. The Jump Calendar below are the earnings reporting events we are working next…expecting to jump 5-20% within minutes after their earnings release. 
To view each Jump Report and how we are trading it… visit the Jump Reports page.
TRADING TECHNOLOGY BREAKTHROUGH
StockJumpers Launches 'Trade Portal 2.0'
The full release of the Trade Assist Portal is now available and ready to rock and roll. As a member you have full access and automate trading jumpers
Ready to rock and roll with our production release of the Trade Portal software, which broadcasts trading signals to our members and has numerous automated trading features built in. The latest release has a number of tweaks. Before I list them – a special thanks to our Beta testers who had to endure a few weird twists and turns along the way.
Updates include:
Free Paper Trade Account: Before committing to a Strategy use StockJumpers Virtual Broker where you can paper trade before going to live and get comfortable with the risk-reward.
Multi-Brokerage capability:: Tradier is our primary brokerage and offers a full robust trading experience, but this new version will add multi-broker capability. Over the months to follow you will see additional opportunities to invest-trade with your favorite brokerage.
SMS messaging for Trade Alerts and Notifications: This means you don't need to be on the Trade Portal app to see your Trade Alert messages.
Bracket Order Type Support: Set your Take Profit and Stop Loss and walk away – now with full or partial automation
Enhanced Graphical Interface: The platform is easy to operate and adjust settings and see performance
View upcoming "Jump" trades by going to the trade calendar...
The Trade Calendar just got interesting as summer heats up with the big mover jump trades. And just in time with the release of the new Trade Portal software with Trade Assist.
Finally, after months of testing we are launching our Trade Assist program that uses the new Trade Portal – connecting you to a commission free brokerage account to operate your jump trade investing business.
Long awaited, we are finally there, and though technically this is a Beta 2.0 release, and will need some cosmetic improvements over the next month, the operational aspects are stable. 
To find out more about it and take a look at how it works visit the Trade Portal FAQ page here.
Those who are old members, who did not renew their memberships will be given one last opportunity to get in on this at a discount… but only if they renew this month, and then it will be gone forever.  Grab your coupon code here... 
IMPORTANT: All data on this site has been published for informational and educational purposes only and does not constitute an offer to sell nor a solicitation of an offer to buy any security which may be referenced here or in our websites. StockJumpers is not an Investment Adviser and relies on the publisher's exemption as defined in Section 401(f) of the Uniform Securities Act, and provides no personal advice or recommendations. The services and published information contained herein is for non-commercial, educational use and display. StockJumpers and any of its affiliates does not represent that the securities or services discussed are suitable for any investor. You should assume that StockJumpers and or its management has or will take a position in the stock, whether it is stated or not. You are further advised not to rely on any information contained in this report and associated websites in the process of making a fully informed investment decision. Trading is risky and you can lose your investment. For the complete risk disclosure and other legal information please review the full Terms of Use Agreement.