2nd Quarter "Stock Jumps" Doing Well - Earnings Season Officially begins!
We are seeing a great year so far for jump trades… (chart below allows you to view any period over the last 5 years)
2020 PERFORMANCE: WE CLOSED OFF 2020 WITH A NET JUMP ZONE PROFIT IN EXCESS OF 1700% – NOT BAD FOR A VERY TOUGH YEAR. HERE ARE THE DETAILS
WHY IT IS DANGEROUS TO GO LONG IN THIS MARKET, WITH EXCEPTIONS...
The stock market hits an all-time high in the middle of a pandemic/economic crisis. Will the party continue? What is the secret to making money in today's market?
Is that good news or should you prepare for a correction? We didn't trust this market before the pandemic crisis and we certainly don't now. Thus we trade events we never stay in longer than a day or two. We call them 'Jumpers'. Up or down – it doesn't matter, We are in and out quick and move on to the next. There is no 'long term' play in this disconnected reality market. We don't trade value or growth with our Jumpers strategy. We trade catalysts, mostly earnings events. Its not a risk-free strategy, but it is consistent and profitable – if you have the predictive tools. This is the secret to making money in this market.
Shoe Carnival has been on a tear since the revival of the markets. Up 25% last quarter on an earnings miss, so we were extra careful reporting on it today and trading it. So far looks like a 20% win in a few minutes, based on our short selling data. Here is the report we published. Below is the chart a half hour after they reported….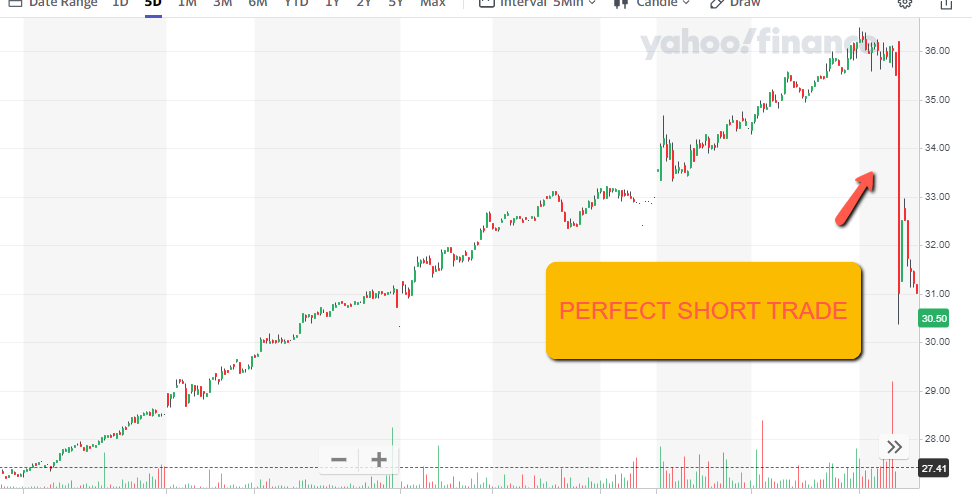 Big miss on earnings, while all the analysts were long, we were short. Here is our Jump Report.  Here is NFLX  current chart.  We pocketed 15% in 5 minutes. Nice trade StockJumpers members.  Trading these events is much easier when you know the direction its going.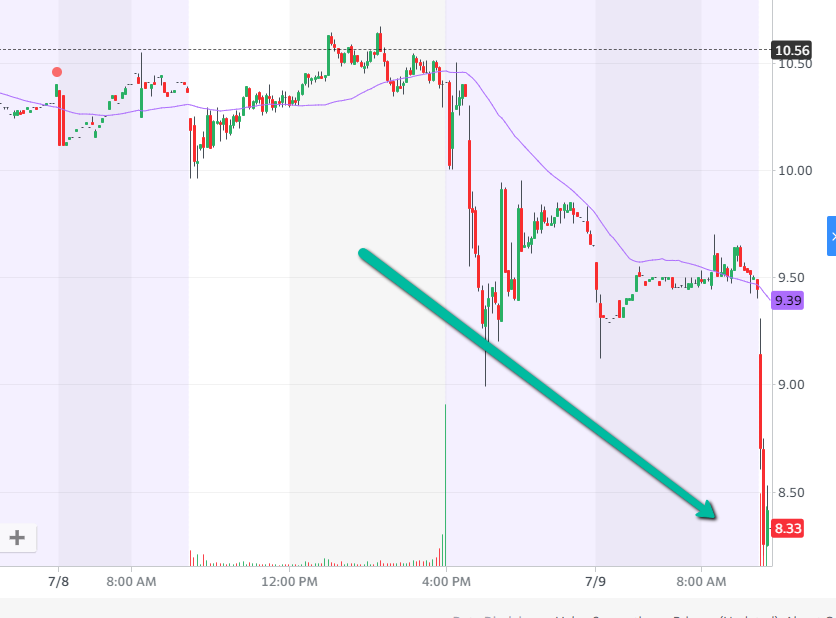 Check out an example of our BBBY trade this week. Here is the BED BATH & BEYOND (BBBY) Jump Report which got traded on the 8th. Look on the Trade Plan tab where we call the direction and how we are trading it. We trade BBBY every quarter and our win ratio is 100%. We shorted Tuesday based on our data-set, and pocketed a quick 20%. Easy money? No, it takes work and knowledge - but this is what we do - day in and day out. StockJumpers excel's - reporting on and trading "Jumpers"..
 At StockJumpers we trade catalyst events with our amazing prediction technology that uses A.I.3 models to determine the most probable direction of a stock jump. It's accuracy is about 80%. The Jump Calendar below are the earnings reporting events we are working next…expecting to jump 5-20% within minutes after their earnings release. 
To view each Jump Report and how we are trading it… visit the Jump Reports page.
TRADING TECHNOLOGY BREAKTHROUGH
StockJumpers Launches 'Trade Portal 2.0'
The full release of the Trade Assist Portal is now available and ready to rock and roll. As a member you have full access and automate trading jumpers
Ready to rock and roll with our production release of the Trade Portal software, which broadcasts trading signals to our members and has numerous automated trading features built in. The latest release has a number of tweaks. Before I list them – a special thanks to our Beta testers who had to endure a few weird twists and turns along the way.
Updates include:
Free Paper Trade Account: Before committing to a Strategy use StockJumpers Virtual Broker where you can paper trade before going to live and get comfortable with the risk-reward.
Multi-Brokerage capability:: Tradier is our primary brokerage and offers a full robust trading experience, but this new version will add multi-broker capability. Over the months to follow you will see additional opportunities to invest-trade with your favorite brokerage.
SMS messaging for Trade Alerts and Notifications: This means you don't need to be on the Trade Portal app to see your Trade Alert messages.
Bracket Order Type Support: Set your Take Profit and Stop Loss and walk away – now with full or partial automation
Enhanced Graphical Interface: The platform is easy to operate and adjust settings and see performance
View upcoming "Jump" trades by going to the trade calendar...
The Trade Calendar just got interesting as summer heats up with the big mover jump trades. And just in time with the release of the new Trade Portal software with Trade Assist.
Finally, after months of testing we are launching our Trade Assist program that uses the new Trade Portal – connecting you to a commission free brokerage account to operate your jump trade investing business.
Long awaited, we are finally there, and though technically this is a Beta 2.0 release, and will need some cosmetic improvements over the next month, the operational aspects are stable. 
To find out more about it and take a look at how it works visit the Trade Portal FAQ page here.
Those who are old members, who did not renew their memberships will be given one last opportunity to get in on this at a discount… but only if they renew this month, and then it will be gone forever.  Grab your coupon code here... 
Herman Miller trade did as predicted. They beat big-time, and we can ride this one up all the way. See the report below…
IMPORTANT: All data on this site has been published for informational and educational purposes only and does not constitute an offer to sell nor a solicitation of an offer to buy any security which may be referenced here or in our websites. StockJumpers is not an Investment Adviser and relies on the publisher's exemption as defined in Section 401(f) of the Uniform Securities Act, and provides no personal advice or recommendations. The services and published information contained herein is for non-commercial, educational use and display. StockJumpers and any of its affiliates does not represent that the securities or services discussed are suitable for any investor. You should assume that StockJumpers and or its management has or will take a position in the stock, whether it is stated or not. You are further advised not to rely on any information contained in this report and associated websites in the process of making a fully informed investment decision. Trading is risky and you can lose your investment. For the complete risk disclosure and other legal information please review the full Terms of Use Agreement.