WHAT'S NEXT AND HOW DO YOU TRADE THIS MARKET?
There are ton's of opportunities in this sea of volatility, but you have be careful. The volatility will continue for some time to come. We are still trading our "Jumpers" daily – but also looking for opportunities from companies that have upside or downside potential.
WHAT ARE WE TRADING NOW?
We remain short TSLA, 880/share expecting a terrible Q2 (our price target is below 500). We are short Carvana (CVNA) and looking for other "way too high" automotive stocks, even though it seems to defy gravity. We were long on JETS but will close out this week. We are also long on bitcoin (BTC) with the halving this month, we expect it to go well over 10,000 in the next 60 days.
BAILOUT PACKAGE - WHAT IT MEANS
6 Trillion is the total package so far, but what's an extra Trillion here or there anyway...
The markets loved it, and ended yesterday with the biggest gain in history since 1933. We traded it and make money on UDOW, GOLD and some others. Our jumpers are still in play, but acting a bit abnormal. Micron did as we forecast. Nike was a win.. Even GameStop (GME) popped as expected, but would it have had the stimulus not been there? Maybe.
Here's the deal. We are far from being out of the woods on this. Even if the biggest bill ever passed in Congress makes it to Trumps desk, this is going to be a roller coaster ride for at least another couple of months. The news will be bad in some sectors and good in others. For most ii means ridding it out on their couch watching Netflix and Prime. StockJumpers will be working the "Jumps" , trading the volatility through it all, as there is a lot of money to made – trading smart.
Unlimited QE for the FED to simulate things.
This video cartoon explains QE. It's old – from 2010 and though meant to be cute and funny… It lays bare truth of what it is. Printing money. 4 trillion we are told in QE.

The Fed will buy Treasuries and agency mortgage-backed securities "in the amounts needed to support smooth market functioning and effective transmission of monetary policy to broader financial conditions and the economy," and will also buy agency commercial mortgage-backed securities, according to a statement.
3-15-20 The FED ponied up 1.5 trillion in short term liquidity to stimulate markets. Did it work? Is printing more money the answer? Well – its worked in Japan for some time… but America isn't Japan. Trillions in value is being wiped off the books. On March 17th at the FOMC will they lower rates further? (update: Sunday night they dropped it to 0 and began QE5) 
The Stock Market Sell Off: This correction is LONG overdue. Rather than operate a free market and let the market adjust itself, government has to manipulate things with new and bigger stimulus packages. This creates a distortion of the way people invest and consume and the eventual correction becomes even nastier. We don't learn these lessons it seems – without pain.
It's time we get back to reality and operate a real market again, but will that happen? Nah. Bankers and government want to control it and they will fiddle with it, thinking they can "fix it" for their benefit. One thing is for certain – we will see volatility for some time to come. Huge downs and ups, until the dust settles. Don't trust the market. Be in cash, and trade opportunities and return to cash. Think like a Guerrilla trader, and you will be fine. Strike only when you know you can win.. then back to safety. You can profit in a huge way from this mindset… just don't be a deer caught in the headlights. 
What's next? Likely a war. That always creates the perfect distraction. 
MARKETS GET POUNDED ON PANDEMIC FEARS!
What Does It Mean For Trading Stock Jumps? VOLATILITY MEANS MORE PROFIT!
We love volatility. As long as you get the direction right… this is opportunity central for traders. This market "correction" is good for us all. The markets have been crazy and needed a catalyst to correct itself….. and though this may not be the "black swan" event most of us day traders have been waiting for – its significant and will let some air out of the tires. Finally.. perhaps there will be some logic to the madness – after the dust settles.
DO NOT make the mistake of buying in just yet. We are far from the lows of this.This is going much deeper. In the mean time check out our Jump Reports and how we are trading the catalysts, which are somewhat immune to the rout. Gotta love a crisis.
Stitch Fix [SFIX] - Biggest Profit Take This Year
We went short in the extended trading hours, based on our data AFTER the broad market had already sold off over 2000 points. Here is what happened…  It dropped 44% and we made a ton of profit. Risks like this aren't for everyone, but the reward was totally worth it.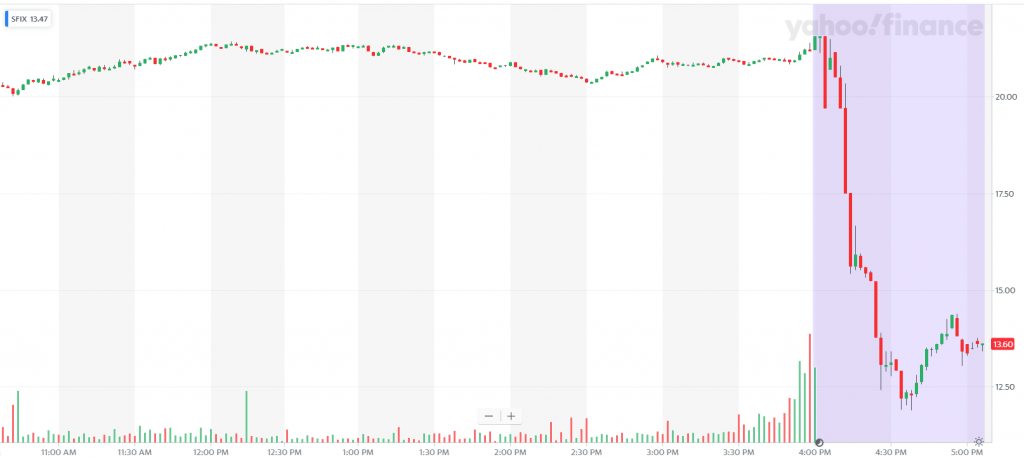 2020 Begins With a Bed, Bath & BOOM ! ...
You always know — when they halt trading during an earnings release, 99.9% of the time there is devastating news coming. That's what happened with our first trade of 2020 – which was BBBY. First they halted trading, next when they released they not only posted a miss and a HUGE loss.. but said they were not going to even post their Full Year Guidance. Yikes. And so we sat and waited and 45 minutes after market close, trading resumed and the stock price plummeted 25%. StockJumpers members were short.. so it was an instant windfall.
Here is what the chart looks like now (mid-session next day)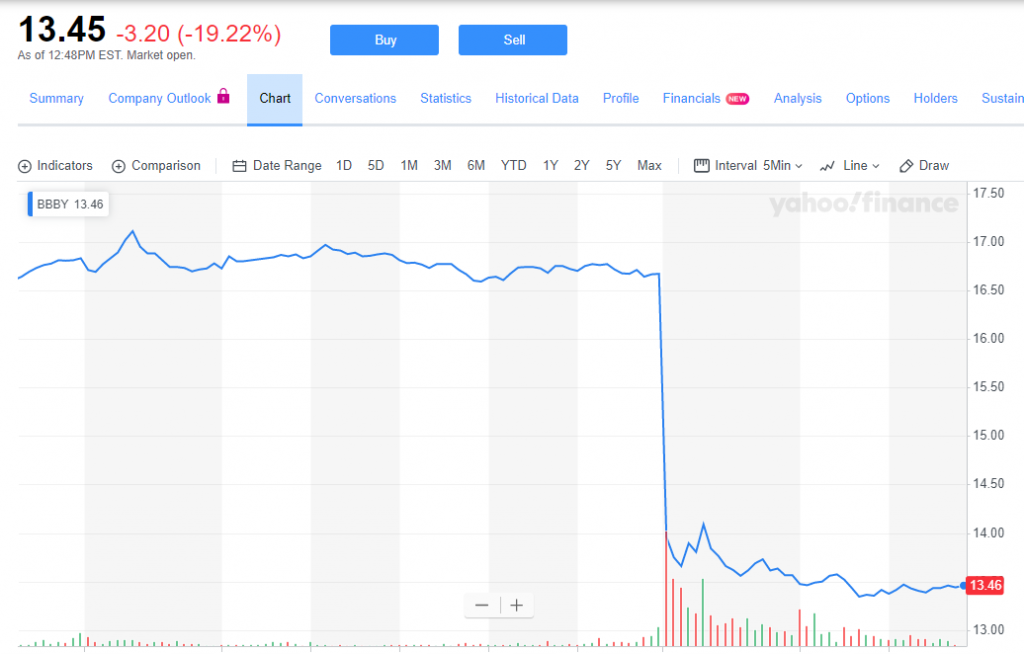 At StockJumpers we trade catalyst events with our amazing prediction technology that uses A.I.3 to model the most probable direction of a stock jump. It's accuracy is about 80%. The Jump Calendar below are the earnings reporting events we are working next…expecting to jump 5-20% within minutes after their earnings release. 
To view each Jump Report and how we are trading it… visit the Jump Reports page.
TRADING TECHNOLOGY BREAKTHROUGH
StockJumpers Launches 'Trade Portal 2.0'
The full release of the Trade Assist Portal is now available and ready to rock and roll. As a member you have full access and automate trading jumpers
Ready to rock and roll with our production release of the Trade Portal software, which broadcasts trading signals to our members and has numerous automated trading features built in. The latest release has a number of tweaks. Before I list them – a  special thanks to our Beta testers who had to endure a few weird twists and turns along the way. 
Updates include:
Multi-Brokerage capability: Tradier is our primary brokerage and offers a full robust trading experience, but this new version will add multi-broker capability. Over the months to follow you will see additional opportunities to invest-trade with your favorite brokerage.
SMS messaging for Trade Alerts and Notifications. This means you don't need to be on the Trade Portal app to see your Trade Alert messages.
Bracket Order Type Support. Set your Take Profit and Stop Loss and walk away – now with full automation
Enhanced Graphical Interface.
The platform will be updated the week of September 2, and for members who have access there is nothing you need to do – other than review the Users Guide for operational changes.
View upcoming "Jump" trades by going to the trade calendar...
The Trade Calendar just got interesting as summer heats up with the big mover jump trades. And just in time with the release of the new Trade Portal software with Trade Assist.
Finally, after months of testing we are launching our Trade Assist program that uses the new Trade Portal – connecting you to a commission free brokerage account to operate your jump trade investing business.
Long awaited, we are finally there, and though technically this is a Beta 2.0 release, and will need some cosmetic improvements over the next month, the operational aspects are stable. 
To find out more about it and take a look at how it works visit the Trade Portal FAQ page here.
Those who are old members, who did not renew their memberships will be given one last opportunity to get in on this at a discount… but only if they renew this month, and then it will be gone forever.  Grab your coupon code here... 
IMPORTANT: All data on this site has been published for informational and educational purposes only and does not constitute an offer to sell nor a solicitation of an offer to buy any security which may be referenced here or in our websites. StockJumpers is not an Investment Adviser and relies on the publisher's exemption as defined in Section 401(f) of the Uniform Securities Act, and provides no personal advice or recommendations. The services and published information contained herein is for non-commercial, educational use and display. StockJumpers and any of its affiliates does not represent that the securities or services discussed are suitable for any investor. You should assume that StockJumpers and or its management has or will take a position in the stock, whether it is stated or not. You are further advised not to rely on any information contained in this report and associated websites in the process of making a fully informed investment decision. Trading is risky and you can lose your investment. For the complete risk disclosure and other legal information please review the full Terms of Use Agreement.