The Line Up This Week Starts With This Heath and Fitness Giant You May Not Have Heard Of -- With Double Digit Jump Zones
They are called Tivity. 

Tivity Health, Inc. is a leading provider of fitness and health improvement programs, with strong capabilities in developing and managing network solutions. Through its existing three networks, SilverSneakers – the nation's leading community fitness program for older adults, Prime  Fitness, and WholeHealth Living, Tivity Health is focused on targeted population health for those 50 and over.
With more than 15.6 million Americans eligible for SilverSneakers, over 10,000 fitness centers in the Prime Fitness Network, and more than 25 years of clinical and operational expertise in managing specialty health benefits and networks, including chiropractic services, physical therapy, occupational therapy, speech therapy, acupuncture, massage and complementary and alternative medicine (CAM) services, the Company touches millions of consumers across the country and works directly with hundreds of healthcare practitioners and many of the nation's largest payers and employers. 
Who knew.
And their last 4 quarters have all been beats and made double digit profit jumps. Our first time trading them is today and we look forward to rocking it – long or short.
Check out the rest of the weeks jumps here… A lot of profit here.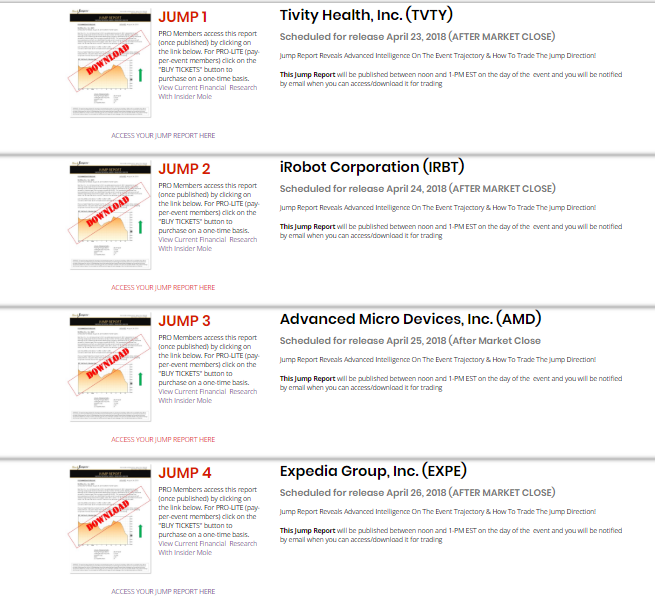 TIVITY HEALTH., Inc. (TVTY) will be posting its FQ1-18 quarterly earnings results today at close. [TVTY] is expected to post earnings of $.49 per share on revenue of $153.7 Million.   In the last quarter, the company reported $.41 earnings per share BEATING the analysts' consensus estimate of $.32  
Last 3 Quarters – "Jump Zone" Move:  16.55%,  19.49%,  5.59%
Consensus Estimates: ($NA whisper) ($.50 estimize) ($.49 wall street)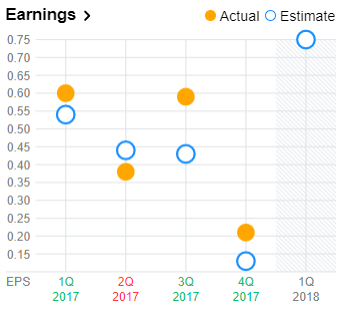 Look at those Jump Zones.
Get your dumbells and pump some iron today and lets get physical and make some mola in the trading room. 
See you there.