Auto -Trading Software
Free Brokerage Account
New 'Bounce' Strategy
How Our Members Make Money...
Trading is difficult. You have to have an edge to make serious money in the markets. As a StockJumpers member you get to capitalize on our edge which is a powerful predictive intelligence technology.  The  "secret sauce" to all trading in knowing in advance how the markets will react to certain events. But there's more. You also have to have the skill to apply that intelligence data along with the tools to make it happen. That's what we do – day in and day out. And its why our performance is so incredible. 
Here is how our program works…
You become a member.  For that you get a commission free brokerage account, blah blah. You get xxxxxxxxxxxxxxxxxx and you get xxxxxxxxxxxxxxxx, That alone is an amazing deal for anyone who is an active investor or trader. The cost for all this is $20 bucks a month.
But thats only jacks or better. Cause you add on top of that one of the StockJumpers strategies and use the Trade Assist function with the free Trade Portal we provide and you can automate the trade signals while maintaining 100% control over your accounts risk management settings. 
IT'S LIKE OPERATING YOUR OWN PERSONAL HEDGE FUND
2019 Begins With Massive Volatility: How Will You Trade The Markets - Without Losing Your Shirt?
The average person doesn't – its that simple. They have their 401k  which is in a fund of some kind or even if self managed – there is likely little most do except bite their nails and worry. If that's you — best not to even look at it.
Then there are people we call the 'Jump-Masters'. Members of StockJumpers unique club that KNOW the outcome of a move before it happens and trade on the volatility with catalyst events like earnings reporting stocks… surfing it like a pro and milking it for maximum profit. What does it take to be a Jump-Master? Well for one thing – guts. This is not for whimpy investors… but also it takes the stick-to-it-ive-ness to ride the wave and sometimes crash. But you get back on the board and ride the next. At the end of the month – is when you count the pot of winnings and it better be at least 20% net or more.  For the Jump Masters.. this is just part of the ride and the thrill of mastering the wave. 
Here is the deal… Expect massive volatility for 2019 (especially 1st quarter). Its a great opportunity to profit from the moves, and that's what StockJumpers is about. It's like Archimedes principal of leverage… give us a catalyst and the knowledge to know how to trade it… and we can create fortunes.  
Wanna make some serious money… like double or even triple your trading account. Then pay attention in the days to come… 
StockJumpers closes out 2018 Trading Year with over 1,800% Jump Zone Profits...
With the new auto-trading program in place for 2019, along with increased volatility, this should prove to be an amazing new year. 
Write me if you want to participate and get the first month free. (new members)
Tailored Brands (TLRD) Trade which produced a 30% profit last night... (nice way to roll into 2019)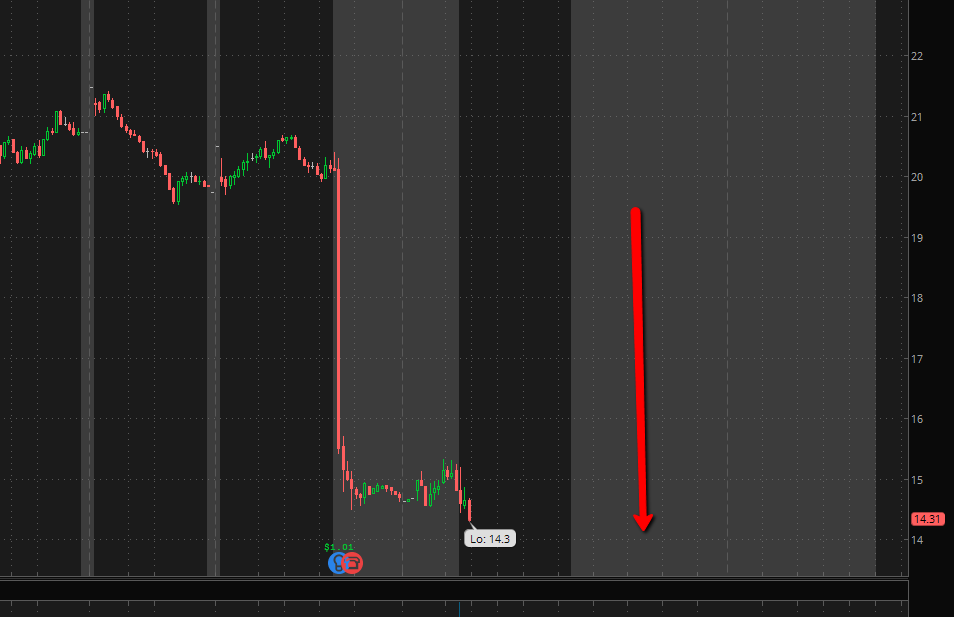 StockJumpers and our members team went short on this one… and it was a no-brainer profit windfall. Our Jump Report models had them missing on sales and the move unfolded as predicted. The day earlier we nailed Dave & Busters (PLAY) for another 18% profit. 
Check out the total net PERFORMANCE for the year….  we were on fire.
As we transition into the Holiday season the earnings season will wind down next week. Its a good time to reflect on the year and get ready for a fresh quarter next month – where the volatility promises to be extreme. StockJumpers loves volatility as it is the supreme opportunity for profit – if you can know the direction to trade. I expect StockJumpers members to make unheard of profit next quarter.
Let the fun begin (again) in 2019. 
StockJumpers Establishing "Partners Fund" For Accredited Investors To Profit From it's Predictive Intelligence Technology
First quarter 2019 StockJumpers will be opening its new "Partners Hedge Fund" to Accredited Investors to take advantage of it's predictive intelligence technology.The Fund will be primarily focused on catalyst earnings events and will trade both stocks and options. A percentage of the fund will be dedicated to longer term global catalyst events like Brexit.

The expectation is for returns in excess of 80% per year.  In addition a second fund is planned in the crypto space to be launched in Spring 2019.
For more information about participating in this fund please contact us at [email protected] Both funds require "accredited investor" status to participate. 
IMPORTANT: All data on this site has been published for informational and educational purposes only and does not constitute an offer to sell nor a solicitation of an offer to buy any security which may be referenced here or in our websites. StockJumpers is not an Investment Adviser and relies on the publisher's exemption as defined in Section 401(f) of the Uniform Securities Act, and provides no personal advice or recommendations. The services and published information contained herein is for non-commercial, educational use and display. StockJumpers and any of its affiliates does not represent that the securities or services discussed are suitable for any investor. You should assume that StockJumpers and or its management has or will take a position in the stock, whether it is stated or not. You are further advised not to rely on any information contained in this report and associated websites in the process of making a fully informed investment decision. Trading is risky and you can lose your investment. For the complete risk disclosure and other legal information please review the full Terms of Use Agreement.