Should You Buy or Sell Texas Roadhouse [TXRH] Today Before They Declare Earnings?
Look at those ribs and the big folks love them.
Well the truth is people LOVE to eat. And TXRH has the recipe for food folks and fun. But analaysts are mixed today on which way to go. We're not – because we really do have the magic sauce.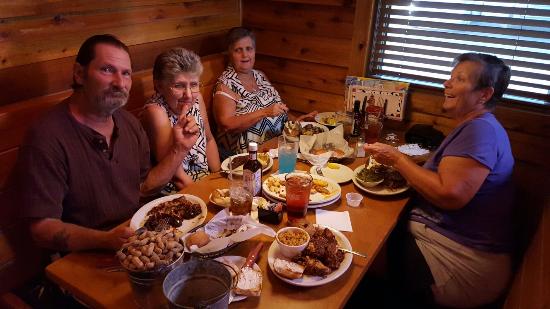 Texas Roadhouse Inc (NASDAQ:TXRH) is currently trading at a trailing P/E of 33.2x, which is higher than the industry average of 23.4x. Does that mean its overpriced and over heated? Perhaps.

Let's drill down a bit?
Here's is what Zacks is saying… "Investors are always looking for stocks that are poised to beat at earnings season and Texas Roadhouse, Inc. TXRH may be one such company. The firm has earnings coming up pretty soon, and events are shaping up quite nicely for their report.
That is because Texas Roadhouse is seeing favorable earnings estimate revision activity as of late, which is generally a precursor to an earnings beat. After all, analysts raising estimates right before earnings — with the most up-to-date information possible — is a pretty good indicator of some favorable trends underneath the surface for TXRH in this report.


Now does this mean its gonna pop? No. And never believe any analysts b.s. Like I said it takes the magic sauce. We ran this one through our ai3 system over the weekend and more this morning. (ai3 = magic sauce) and we think we have this one nailed down. 
So – get the Jump Report – get into the trade room and make enough profit for a 3 years supply of ribs. 
Texas Roadhouse, Inc. (TXRH) will be posting its FQ4-17 quarterly earnings results today at close. [txrh] is expected to post earnings of $.37 per share on revenue of $544.17 Million. In the last quarter, the company reported $.43 earnings per share MEETING the analysts' consensus estimate of $.43 The stock is currently trading at $57.98 per share.

NOTE The last two quarters they met on earnings and the stock went up (but it was a close call)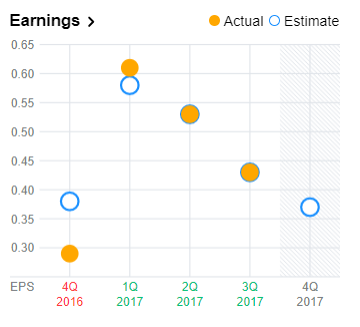 Here is a quick look at their 12 month chart which is trading this morning at 56.84/share
Here is how we are trading this Jumper today….