Yep, a perfect Jump Trade with Switch (SWCH).
Our data was spot on. You'd think we had "insider" information it was such a beautiful thing. They beat on revenue, but missed HUGE on EPS – EXACTLY as we forecast, and the result.. well look at the chart.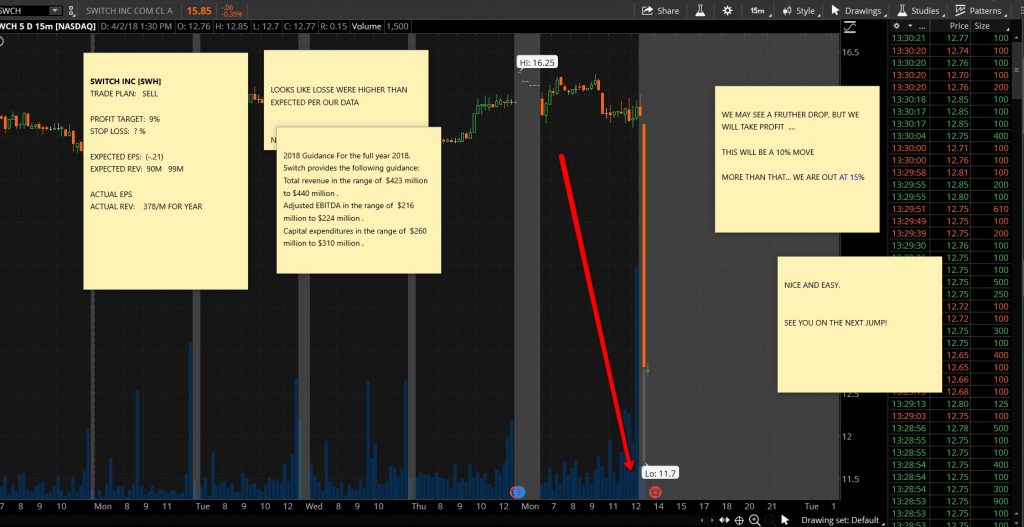 A screnshot from yesterday's Trade Room experience, where they announced a $2 loss, instead of the expected -.21 cents. In a matter of minutes this is how the chart looked.

Below is a snippet from the jump report.... (click to expand)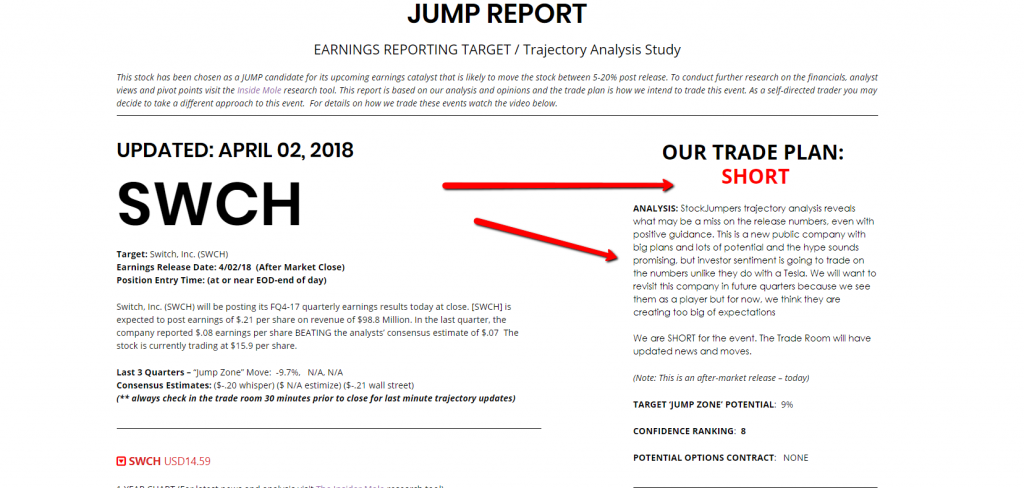 That's how we do this... If you are not seeing the responsibility - what does that say about you.
OK - enough bragging. Its PLAY time.
Today we have another volatile play with PLAY. Dave & Busters Entertainment another huge jumper we trade very quarter. Do you think we have this dialed in, and our members will make another killing. You bet your sweet life we do.
If Dave & Buster's Entertainment (NASDAQ: PLAY) investors are feeling a little nervous this week, it's hard to blame them. The company behind the chain of high-volume restaurants reports fresh financials after Tuesday's market close, and Wall Street is bracing for uninspiring results.

Analysts see revenue climbing 13% to $305.5 million. A restaurant coming through with double-digit revenue growth would normally seem impressive, but Dave & Buster's growth is coming from expansion lately. The chain's fiscal fourth-quarter results will likely clinch this as the third fiscal year in a row of decelerating top-line growth. 
The news only gets worse on the bottom line, where analysts see Dave & Buster's earning $0.60 a share, just shy of the $0.63 a share profit it managed a year earlier. It's not really a surprise to see the stock hit a new 52-week low last week, and Wall Street pros that have chimed in lately aren't feeling very optimistic. 
But don't count them out. People love this place and they have been soaring. Remember the Chuck e Cheese Factory from the 80's. This is the latest twist on that concept… and they have done extremely well with it – till recently. 
Here is how we are trading this "jumper" today for max profit…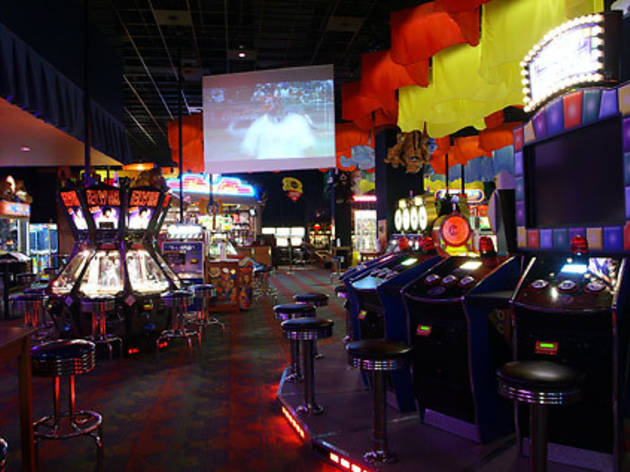 Dave and Buster's Times Square is a combination bar, restaurant and arcade. The venue is part of the nationwide Dave and Buster's chain, founded in Little Rock,
Dave & Buster's Entertainment, Inc. (PLAY) will be posting its FQ4-17 quarterly earnings results today at close. [PLAY] is expected to post earnings of $.61 per share on revenue of $304.59 Million. In the last quarter, the company reported $.27 earnings per share BEATING the analysts' consensus estimate of $.23  The stock is currently trading at $40.09 per share.
Last 3 Quarters – "Jump Zone" Move:  8.05%,   -11.74%,   4.28%
Consensus Estimates: ($.64 whisper) ($.63 estimize) ($.61 wall street)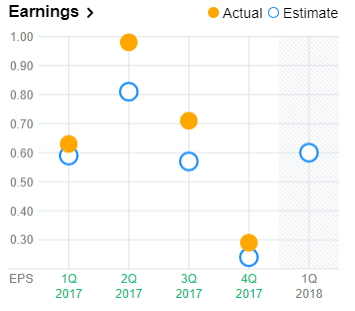 If you are not making money trading with StockJumpers… what does that say about you? Are you just seeing how to do this? You only have yourself to blame for leaving so much money on the table.  You have a chance to redeem yourself today – with PLAY. So do it.